Funding
Club Nissim is funded by grants from:
The Conference on Jewish Material Claims Against Germany which represents wold Jewry in negotiating for compensation and resititution for victims of Nazi persecutions and their heirs.
The Claims Conference administers compensation funds, recovers unclaimed Jewish Property, and allocates funds to institutions that provide social welfare service to Holocaust survivors and preserves the momory and lessons of the Shoah. For further information go to www.claimscon.org.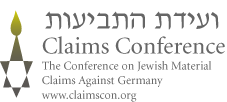 The UJA/Federation of New York provides significant funding specifically for the support of Club Nissim. For further information click on www.ujafedny.org.
Thank you to the NYC Council Survivor Initiative which has given funding to the program for 2016-2017.